INV is a crypto token that is designed to be used for all services provided by INVESTA'S REALM PLATFORM and future exchange platforms as explained in this document and related documentation. INV also can be used as a Crypto Token to pay for any other services provided by other
business entities. INVESTA will generally not limit the usage of INV or the types of business entities that would like to use INV for their business. INV is not intended to constitute a security in any jurisdiction. This, website and ALL ITS CONTENT is not a solicitation for investment and does not pertain in any way to an offering of securities in any jurisdiction. Please note that purchases of INV are final and non-refundable. Individuals, businesses, and other organizations should carefully weigh the risks, costs, and benefits of acquiring INV.
Decentralised Control
As part of Investaco's vision of creating a blockchain based digital banking platform that can bring value to investors and coinholders, they are also structuring the control of the project in a decentralised way. This means that various control functions are delegated to relevant authorities either internally or externally, to provide greater transparency and oversight of the inner workings of InvestaCoin. Their coinholders will be able to contact their core team through multiple redundant channels such as slack, telegram, twitter and community forums. Their consensus based voting mechanisms will ensure that democracy rules in directing their core dev team on vital chain and platform dev decisions, that will inevitably arise as their expand to meet the varying demands of not only their future coinholders but new customers as well.
Investa's e-wallet
Investa's e-wallet is ERC-20 compliant and developed on the Ethereum platform, with open source decentralized nodes to confirm all transactions quickly, minimizing risk, enhancing high security, and does not involve any third parties. Their have a published development roadmap. All wallets on their platform will be auto updated by their blockchain prototcol to hold INV or trade seamlessly on global exchanges. Investa's e-wallet provides a convenient storage vessel for your digital wealth, allowing a seamless switch between crypto and FIAT currencies. Every kind of crypto assets deposited at Investa's e-wallet may be stored in an offline wallet. It is planned that 95% of assets will be stored offline, while 5% of assets will remain in an online HOT wallet allowing for faster deposit/withdrawal experience. With the option to make instant exchange at the lowest possible fees between fiat and crypto Investa's e-wallet is more than just a regular crypto wallet, and it has amazing capabilities that makes it attractive to use, and also with the convenience of having multiple currencies, tokens and storage security levels. By having such a vast array of options between the wallet that will accommodate the diverse services across the Investa platform. Investa's will offer flexible options, but high security of their users funds at all times. Investa's e-wallet will be the easiest way to make crypto payments in the real world as well as enjoy exclusive benefits inherent to Investa's platform. INV is not just a token – it has a real purpose and will enable multiple functions and services.
INVESTA  Exchange.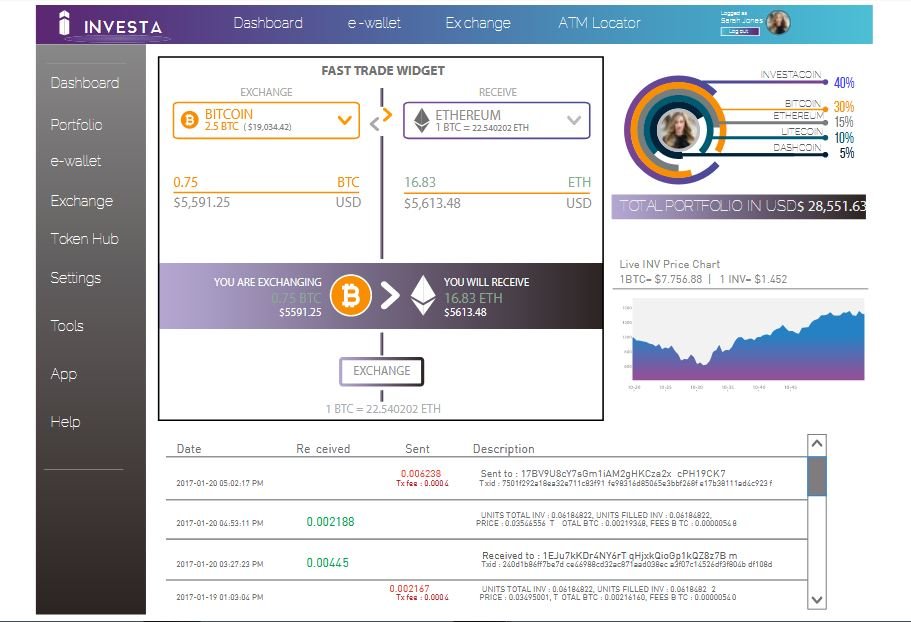 Why is Investa Exchange different?
Investa Exchange is a cryptocurrency service platform that provides cryptocurrency trading and ICO underwriting, aiming to solve the existing problems of current cryptocurrency exchanges. It features 0.5% trading fees to maximize traders' profit and market liquidity. Achieving the true "real-time" trading experience, and rendering it the world's first cryptocur- rency exchange capable of high-frequency trading. Furthermore, aims to solve ICO tokens' liquidity issues through its ICO under- writing service in conjunction with Investa's Launchpad.